Crossing the borders into Corrales is like stepping into a time and place where the stresses of twenty-first-century life give way to the grace and pace of another era. Walkers, bikers, horseback riders, and even carriages are a part of everyday life. The Village is bordered on the east by the Rio Grande, West and North by the City of Rio Rancho, and to the South by the City of Albuquerque. Population 7,300.
The Village of Corrales city office is located at:
4324 Corrales Road Corrales, NM 87048 (directions)
Phone: 505-897-0502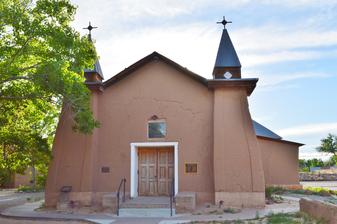 Mayor's Message for June 22
Greetings - apparently, we are in for really hot June weather. Rio Rancho Mayor Gregg Hull said that when the temperature exceeds 100 degrees, even newly-repaired sidewalks tend to "pop up." I told him we avoided that problem but not having sidewalks at all.
However, we are happy to wade into the 21st century when it comes to communication. To that end, the Village is getting a real communications boost through the efforts of a long-time Corrales resident and well-known media presence: Janet Blair.
I am happy to announce that Janet will be working as our Volunteer Public Information Officer. Among other media-related jobs (both on-air and in print), Janet was the Albuquerque Metro Court Communications Director. Janet will assist me and other members of the village administration with public outreach, social media and mainstream media communications.
It is a tangible step towards my goal of creating better communication with the citizens of Corrales and our surrounding areas. Janet will use her media savvy to work with us on issues such as development of the local economy, crime and public safety issues and village events and celebrations.
Also, Corrales MainStreet is conducting an online survey of Corrales residents on internet service providers, in order to give us information about our options. Grif Newcomb, President of Corrales MainStreet, swears that it won't take more than a couple of minutes. You can take the survey at
www.visitcorrales.com
.
The Village had a very collaborative and successful work-study meeting with New Mexico State MainStreet and Corrales MainStreet. Along with a presentation from State New Mexico MainStreet, we got a preview of the long-awaited Pathway Plan and shared ideas about how to work together to make sure we get not only get a walk-able path, but also a fire suppression pipe along Corrales Road. Thanks to all who participated.
It is a pretty quiet weekend here in Corrales. But looking ahead, we've got our World Famous 4th of July Parade and a chance for you or yours to create an image of the Old Church - watch for upcoming details. Plus of course, music, fun and fresh produce at the Grower's Market, Sunday 9 to 12.
Have a wonderful weekend.